Training of the Riders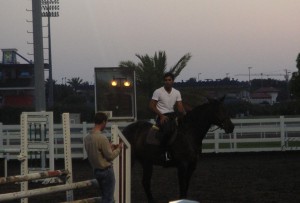 We are pleased to pass on our knowledge to our pupils. We take great joy in consequently challenging and promoting riders and their horses. Thanks to our many years of experience, we are able to optimally plan the different training phases individually and optimise the sporting career of both horse and rider. We will be glad to compile an individual training concept for you – tailor-made to meet your requirements and goals. Our offer ranges from individual training sessions through to intensive on-site training with theory and practical phases spread over several months, comprehensive competition planning and sound supervision.
Training of the horses

Our horses are selected according to their strengths and talents and then further promoted in a targeted manner to ensure that their natural potential is developed to the full. The horses are backed gently, are allowed plenty of time to acclimatise themselves and their participation at competitions is strategically planned as part of the learning process, all of these aspects form the main pillar of our training method for horses.
Great importance is placed on the health and top performance of the horses during all phases of the training. In this connection, you can rely on the long-time experience of a competent team, which is dedicated to the well-being of your equine partners. You too can profit from this training that promises to be the path to success!